New for 2020 — shop online!
From Thanksgiving Day through Dec. 13, you can use this page to shop for an array of bespoke gifts, just in time for the holiday shopping season. Now more than ever, local artists and makers need your support. Please come shop with us!
Scroll down below to view a gallery of items available for purchase through each vendor's own online shop.
Just click on an image below — and then click on the image that appears on the next page — to be taken to the vendor's website to purchase an item.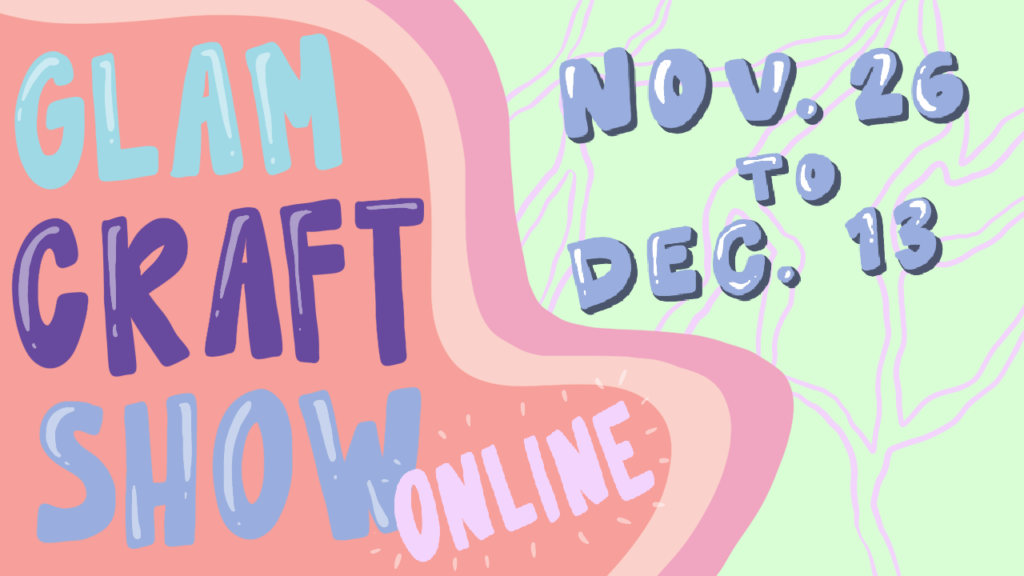 View all online market items HERE.
.
BANGIN JEWELRY
https://www.banginjewelry.com/
Hi! My name is Erica Wilson.
I have been making jewelry for as long as I can remember. My earliest memory is shaping silly putty Into rings and bracelets and forcing my mom to wear them until they drooped off lol! Next I developed a macrame friendship bracelet addiction. From there it was anything I could get my hands on. Beads, flat plastic cord, shrinky dinks, I even melted tooth brushes and formed them into bracelets! In high school I was super into making glass beads and hemp necklaces to go with them. After high school I took a break from jewelry making and when I picked back up it was in the form of found mixed metal objects, beads and bones. That was almost seven years ago and I haven't looked back since. Now I make jewelry full time and I can't wait to add more silver to the line up, better my soldering skills, and learn how to cast metal!
Blossom House Pottery: Anita Lenas Artist Potter
https://Blossomhousepottery.com
Recently Retired from years of caring for a rural underserved population as a Nurse Midwife and Family Nurse Practitioner . During these years, artistic pottery has been my constant serious hobby. Having had the great opportunity to take 3 semesters of Ceramics/pottery in College 45 , I fell in love with clay and the process of making art with this medium. Over the years I have maintained a private studio on my rural property giving me time to interact with my community teaching classes, selling pots, but mostly I cherish my private quiet time to create sign and pray. The focus of my pottery has always been about family and family gatherings. Pottery that is both functional to use every day or on a special day adding beauty and whimsy to our tables, our kitchens and our gardens.
Daddy's Button Shirt
https://www.etsy.com/shop/DaddysButtonShirt?ref=seller-platform-mcnav
I was an elementary school media specialist for 35 years and retired several years ago. I decided to start a business reusing worn out men's shirts and I named it after one of my son's first phrases when he saw one of his dad's shirts. I buy my shirts at garage sales, thrift stores, and estate sales. I make baby pants from the long sleeves, totes and toddler dresses, and scarves from the main front and back sections, stuffed animal pillows from the short sleeves, storage bins, collar cases, and hair bows from the collars, and banners and booties from left over scraps. I also use felted wool sweaters to make purses, which are lined with a man's shirt.
Design By JessAnne
http://www.designbyjessanne.com
Hello I'm Jess, an Abstract Artist currently based out of Gainesville, Florida who loves the mountains and water.

My uniquely distinct free flowing style is inspired by the natural beauty of nature. I draw upon my background in geology and geography, childhood in Australia, a deep connection to the outdoors, appreciation of natural elements, and passion for adventure. My creative process allows for layers and color relationships to direct individual compositions organically, giving each piece from my fine art to my originals an aesthetically pleasing quality. The intention behind my artwork is not to paint a particular place but to create a mood and space to dream, remember, and inspire.

My creative goal is to inspire you to reconnect with the memories, emotions, places, and times that have had a profound impact on your life – to bring happiness home.
Devine Designs Jewelry
https://www.devinedesignsjewelry.com/
My jewelry business started out with my obsession with jewelry and collecting it! So I decided to make it instead. After a trip to a bead and craft shop, the purchase of some beads and a magazine for inspiration; I was hooked.

Here I find myself, 13 years later, mostly a self-taught jewelry artist; learning through on-line video tutorials and my own self-exploration. I have also taken a few classes at a local arts center.
I love working with metals; moving and shaping them; finding out just how much you can do and create with plain metal is fascinating!
My home studio continues to grow, with areas dedicated for metalsmithing, fold-forming and hammering, plus, what I call my "business/learning center".

My work has been featured in the gallery pages of STEP BY STEP WIRE MAGAZINE,
Feb/Mar. 2010, and June/July. 2010
Doodleshop
https://www.etsy.com/shop/doodleshop
The Doodleshop opened in 2011 after years dedicated to developing my paper crafting skills first through scrapbooking and then through card making.

My passion for paper crafting began with my first scrapbook documenting the toddler years of my now teenage daughter. Creating pages that combined color, texture, and style to capture her whimsical personality was an absolute joy.

The passion spread when I transferred my skills to creating cards that perfectly suited the recipient. There was no better feeling than seeing the smile or witnessing the heartfelt sigh as my family and friends saw the special card I'd lovingly made for them.

My goal is to create handmade high quality joyful cards that allow you to connect with your loved ones in the same way that I was able to connect with mine, bringing them a smile to their face, feel the hug across the miles, or know just how special they are to you.
Eleanora Knits
http://instagram.com/eleanoraknits
I am a knitter who has been impacted by the pandemic, so I decided to make and sell patterns. I was hoping to test my market with one of my ideas through GLAM, as such I do not have a website or much work to judge. My product is a "How to Knit Kit," offered for $20 -25 depending upon the yarn selected. The kit includes one skein of yarn, appropriate needles, and a basic cowl pattern I designed. Included with the kit there will be a QR code to access YouTube videos that show the viewer step-by-step how to make the cowl, from winding the yarn into a ball to weaving in the ends. // If this bio is intended for the website and I am selected, please allow me to rewrite it. I was not sure I would have an opportunity to explain my product and situation elsewhere on the form.
FixinToFold
https://www.etsy.com/shop/FixinToFold
I have been an origami enthusiast ever since my dad brought a pack of origami paper home from the bookstore. I started looking up simple designs online, and was instantly hooked – origami is a beautiful and calming art form, and all you need to get started is a piece of paper! My particular specialty is 3D origami.
There is a 4-step process to create a 3D origami model. 1st: Create a design! This may be one of my favorite parts of the process – it is so fun to push the envelope of what can be created with paper! 2nd: Cut sheets of 8.5″ x 11″ paper into 32 pieces each. 3rd: Fold each piece into a special triangular shape. Finally: assemble the pieces (with glue, to make sure everything is sturdy and secure). Each 3D origami model may be constructed from anywhere between 100 to over 1,000 small pieces – so this is truly a labor of love.

Genevieve Camp Studio
https://genevievecampstudio.bigcartel.com
I have been making art since I was a small child. I majored in fine art in college and went on to get my master's degree in art therapy. After my daughter was born in 2016 I was looking for a new creative medium that was more compatible with mom life and discovered bead weaving. I've been hooked ever since.
HaldeCraft
https://www.haldecraft.com/
I was bitten by a crafty bug as a child, when my grandmother tried to teach me to knit and crochet (ostensibly to keep me quiet while "her shows" were on). That didn't take very well, but she also had a ceramics studio and the first time she put a brush in my hand and I painted that duck purple, I knew that was for me. In the years since then I have kept with my beloved ceramics, and also picked up soap-making, knitting, spinning yarn, making lip balms and lotions, sewing, weaving, and most recently, blacksmithing.
Handshucked
https://www.handshucked.com/
Handshucked is focused on its surroundings as a canvas and/or frame for its simplified and well crafted designs that are typically directed with a bit humor in mind.
Jewelry Art Studio
https://www.jewelryartstudio.com
I have been making jewelry for men and women as a living in Gainesville, Fla. since 1978 and have been a self employed artist since then. Primarily self taught, I work mostly with silver and bronze. A variety of techniques are used, including forging, fusing, roller embossing, constructing, fabricating and casting. Most of my designs are inspired by nature. Ideas come from the land and the sea. I am focusing on belt buckles in silver and bronze but also jewelry of all types. The current collections are Sea Life and Forest Life. Out side of those collections, I also make one of a kind rings, pendants, bracelets, and earrings
M & G Art Innovators
https://www.etsy.com/shop/ArtInnovators
Mirna is the main creator/designer of the jewelry, while Alba (Mother) and Gladis (Grandmother) collaborate on the design and sales. They offer an array of minimalist jewelry and funky retro styles.

M&G Art Innovators has a flair for making eye-catching jewelry as well as classic pieces that fit every moment. They use high-quality materials, including sterling silver, stainless steel, 14K gold-filled wire with brass, and even polymer clay creations. The items include an array of minimalist jewelry as well as funky retro styles. In addition to jewelry (earrings, necklaces, and bracelets), the trio also creates amusing hand-made cards for a variety of occasions and even a few items for the kiddos.
Mannix Vanilla
http://www.mannixvanilla.com/
As a family, local-owned business, Mannix Vanilla has been producing double-strength, bean-in-the-bottle extracts and other premium vanilla products since 2001. From aging in oak barrels to bottling, the Mannix Family takes pride in every step towards producing the highest quality vanilla products.
** Use code GLAM to receive a free vanilla bean on orders of $25 or more, a $7 value! **
Michelle Nagri Photography
https://www.mnagriphoto.com
Michelle is a photographer and collage artist based in Gainesville, FL. In 2010 she was introduced to a digital SLR camera and immediately fell in love. Since then she's been honing her craft as a way to find her voice. She enjoys nature and architecture as subject matters, and especially loves to abstract such environments in order to highlight the light, the shape, and the feeling of a particular location. Her most recent work involves digitally collaging her photographs in a way that celebrates the locations she comes across in Gainesville and beyond. Through her art she wants to connect with the viewer and express the beauty of the world that is often hiding in plain sight.
Mud and Thread
https://www.mudandthread.com/
Mud and Thread started because siblings Aly and Evan were setting up at events and shows solo – and found out it was fun to just do it together. Evan has been doing pottery since high school, learning from the nuns at St. Joe. And Aly who also dabbled in pottery in her earlier years looked for a different creative outlet and found sewing worked with her busy schedule.

We have listed a sample of things that we make – but we have a lot and we are always updating the inventory especially this time of the year.

Shipping or Delivery – I am willing to deliver pottery the Wednesday after GLAM to Gainesville or High Springs residents. If you like to use this offer, use the code RAMPICKUP and make sure that there is a valid address and phone number for us to contact you. We do offer shipping but we do not guarantee pottery because it is one of a kind, and can not be remade.

Happy Shopping and Holiday Season,
Aly, Evan and Jim
Mystic Masques
http://www.mysticmasques.com
Art is a catharsis for me. Expressing myself through painting has sustained me through difficult times battling cancer and wonderful times – adopting my children and the joy of today's blessings.

I have painted in many styles, but I landed on the technique I use for my masks today, painting a mannequin to be auctioned off for The "Artists Supporting PRIDE – Rainbow Spirits" for the Pride Community Center, St. https://bit.ly/3oAz629

I started using the same technique on some blank masks I found at an estate sale, and they turned into a series of one-of-a-kind masks representing powerful Goddesses from all different ethnicities.

Each mask is created from a handmade Italian Venetian mask. The masks are hand-painted with acrylics, adorned with crystals, feathers, and ornaments and found objects, and designed based on the Goddess they represent.

My hope is that each mask purchased will bring power, strength, hope, or just enjoyment to their new owners.
Bee Friends Farm
https://beefriendsfarm.com/
Started in 2013 by beekeeper Michael Leach, Bee Friends Farm produces some of the best raw, local honey you can find in Jacksonville. It's true that honey bees face more challenges than ever and at Bee Friends Farm the health of our hives comes first. Michael is always looking for ways he can help strengthen the bees we manage. Healthy bees happen to produce amazing honey, try a taste and you'll be hooked! You can feel confident knowing that you are purchasing the highest quality raw, local honey you can for you and your family. For an up-close look at our hives and a peek into our bee yards follow Bee Friends Farm on Instagram and Facebook!
Patience Press/WoodsyLitterCritters
https://www.etsy.com/shop/WoodsyLitterCritters/
I started making critters about 20 years ago one Halloween with my 3 year old grandson. We made spiders out of sweet gum balls, twigs and acorns. Since then I have made many different critters, and finally made an ABC book of them.
Poetry Cowgirl Nail Polish
https://www.poetrycowgirlnailpolish.com/
Poetry Cowgirl Nail Polish was founded in San Diego, CA in October of 2015 and currently operates out of the Tampa Bay Area. Our nail polishes are cruelty free, gluten free, vegan friendly, and free from Formaldehyde, Toluene, Dibutyl Phthalate (DBP), Camphor, Formaldehyde Resin, Xylene, Ethyl Tosylamide, Parabens, Phthalates, and fragrance. We care about the quality of the ingredients we put on our bodies, and the ethics of where those ingredients come from, and we are careful to source only the best to deliver quality products to you.
Ritual Tree
https://www.ritualtree.com/
Candles are one of those small things that make everything better. The problem is that the really great ones are too expensive to light every day, and the affordable ones don't smell like anything and are made from materials unsafe for the home.

So I started Ritual Tree to make the candle I wanted. One that smells great, is safe to burn, and won't break the bank. I quickly found out that other candle lovers want that too!

My core collection, Daily Rituals, is made of seven scents that take you through the day. Limited editions surprise and delight candle lovers while keeping it fresh.

At Ritual Tree, I melt, mix, stir, and watch lovingly over every eco-friendly plant-based soy candle I pour in my tiny studio in Gainesville, FL. My unique hand-blended non-toxic fragrances are tested and well-loved – with customers asking for them by name!
Rudy's Rescue for Homeless Toys
https://www.etsy.com/shop/RudysRescue
I have been a jewelry designer for 22 years. I create one of a kind vintage inspired wearable art with beads, buttons, found objects and fibers. My work can be found at the Artisans' Guild Gallery were I serve as President.
Every year the guild sells hand made ornaments. A few years ago I got the wacky idea to make Christmas outfits for plastic animals. The animals I had were all thrift store finds. After a good bath, they were fitted with a hand crocheted sweater and a few Christmas embellishments to complete the look. Well, they were an enormous success and I've been producing them every year since. Rudy, of Rudy's Rescue, is Rudolph, the misfit reindeer. Just like his friends the misfit toys, all of the animals I use were cast aside. Now they make everyone smile and it warms my heart to see them go to their new forever homes. All animals deserve love, even if they are plastic.
Timber Line Jewelry
http://www.timberlinejewelry.com
We create handcrafted minimalist + modern jewelry and home accents. With a background in furniture design & woodworking these wearable, versatile statement pieces feature wood patterns, eye-catching shapes and striking contrast elements.