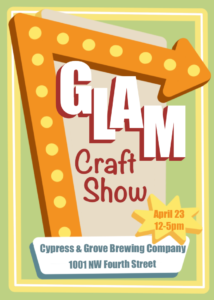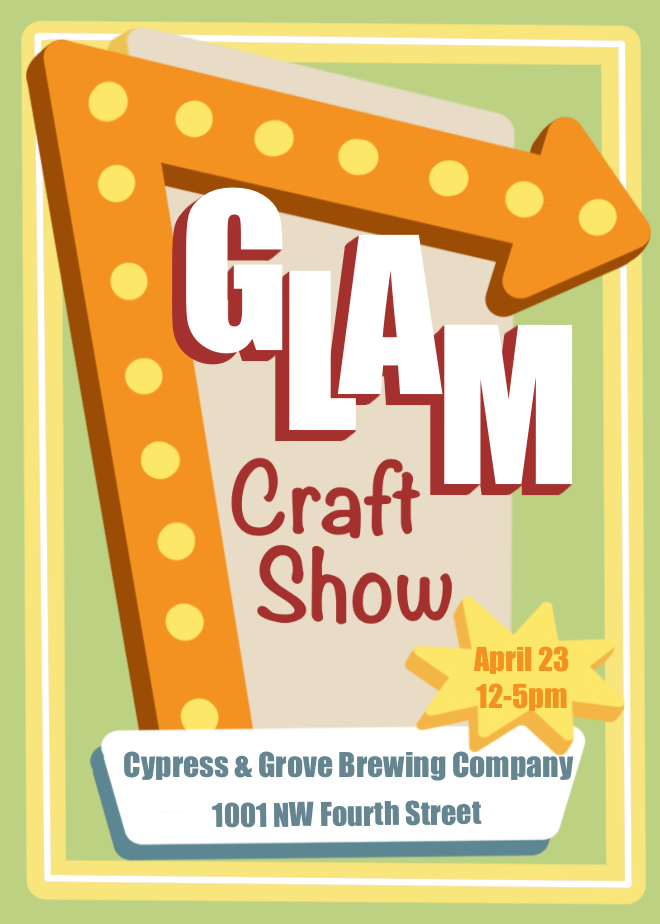 Interested in applying to be a vendor at Gainesville's original alternative craft show? That's awesome! We're always on the hunt for local artists and crafters who make unique handmade items that are edgy enough to stand out from the crowd.
Our spring show will happen on Sunday, April 23, 2023, we'll be at Cypress & Grove Brewing Company, 1001 NW 4th Street, Gainesville, FL 32601.
Ready to apply? Please scroll down and read the fine print, and then click the red button below. Applications will be accepted until Feb. 23  at 11:59 p.m. or until we reach application capacity. Final decisions will be announced by March 1.
Questions? Contact Kim at [email protected]
GLAM is a production of Sew Make Do LLC, a Gainesville-based small business that strives to bring creative opportunities to our local community.
---
PLEASE READ THE FOLLOWING DETAILS CAREFULLY BEFORE APPLYING. 
APPLICATION DEADLINE: February 22, 2023 by 11:59 p.m.
NOTIFICATION DATE: March 1, 2023 by 11:59 p.m.
EVENT DATE AND TIME: Sunday, April 23 from 12 noon to 5 p.m.
COVID-ERA ACCOMMODATIONS: Vendors and shoppers may wear face coverings, if they choose.
CANCELLATION POLICY: The event will happen rain or shine.
VENUE: Cypress & Grove Brewing Company, 1001 NW 4th Street, Gainesville, FL 32601. All vendor spaces will be outdoor booths in the brewery parking lot, green space, and/or along the rail trail, so please plan accordingly and bring a pop-up tent and weights.
TABLES / BOOTHS: Craft vendors may apply for an outdoor 10′ x 10′ booth space ($135). We will not offer indoor tables at this show. Vendors may bring their own pop-up tent, no greater than 10′ x 10′. All tents must be anchored securely. We provide one 8′ table, for convenience. Vendors may bring additional table(s) or displays that fit within the allotted space. Limited spaces are available.
SELECTION CRITERIA: We always receive more applications than we can accept. Please know that we work hard to strike the right balance of vendors for our shoppers. We favor vendors who make unique, handmade, giftable items that are fresh and unexpected, or even edgy and quirky. We also accept vendors who sell vintage items. However, we do not accept vendors who resell items made entirely by someone else (e.g., imported or wholesale items). To be clear, it's okay to buy mass-produced T-shirts and screenprint them with your own designs. It's not okay to buy jewelry or clothing that's handmade in another country and sell it as your own work. If you think there is any grey area with what you make/sell, be sure to address this on your application. We also limit the number of vendors who sell within a single category (e.g., jewelry and soaps/bath/beauty).
NOTIFICATION: All applicants will be notified of their status by Wednesday, March 1 at 11:59 p.m., if not before.
VENDOR FEE: If you are accepted, the producer will retain the vendor fee that you paid. If you are not accepted, the producer will return your payment by Wednesday, March 1.
PHOTOS: If you don't have a website or social media page that shows pictures of your work, please email three images to [email protected]
SET UP AND BREAKDOWN: Vendor set-up will start at 10:00 a.m. on April 23, and all vendors must have their display set up and ready for customers by 12 noon. Vendors may not begin breaking down their display until the event has ended at 5 p.m. If you break down early, you may not be accepted for future shows.
QUESTIONS: Have questions before you apply? Email Kim Kruse at [email protected] Thanks so much for your interest in making GLAM a dynamic event!
TERMS AND CONDITIONS: By submitting an application and payment, you are agree that the event producer, Sew Make Do LLC / GLAM Craft Show, will not be held liable and no refunds will be given if the event is cancelled due to severe weather, fire or other calamity, an Act of God, statutes, ordinances or any legal authority, COVID-19, or any conditions beyond the event producer's control.