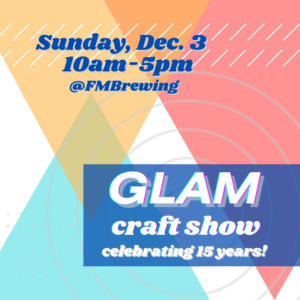 Interested in being a vendor at Gainesville's original alternative craft show? That's awesome! We're always on the hunt for local artists and crafters who make unique handmade items that are edgy enough to stand out from the crowd.
Our 15th annual winter show will happen on Sunday, Dec. 3, 2023 at First Magnitude Brewing Company.
Ready to apply? Please scroll down and read the fine print, and then click the red button below. Applications will be accepted until Oct. 18  at 11:59 p.m. or until we reach application capacity. Final decisions will be announced by Oct. 25.
Questions? Contact Kim at [email protected].
---
EVENT DATE AND TIME: Sunday, Dec. 3 from 10 a.m. to 5 p.m.
APPLICATION DEADLINE: Wednesday, Oct. 18, 2023 by 11:59 p.m.
VENUE: For this winter show, we will once again be at First Magnitude Brewing Company, 1221 SE Veitch Street, Gainesville, FL 32601. The venue will offer both indoor (open-air warehouse) and outdoor (parking lot + beer garden) options for vendors. Indoor table spaces will be in the brewery warehouse and canning area, which have large roll-up doors open to the outside air. Outdoor booths will be in the brewery parking lot and/or in the beer garden, so please plan accordingly and bring a pop-up tent and weights.
VENDOR SPACES: Craft vendors can choose to apply for an outdoor 10′ x 10′ booth space ($150) or an indoor 8′ table space ($100). Each applicant may apply for only one space, e.g., a single vendor may not occupy multiple booths or tables. We provide one 8′ x 30″ table for each vendor space, to help streamline load-in. Please email us (glamcraftshow-at-gmail.com) if you do not want a table in your space. Craft vendors who select outdoor 10′ x 10′ booth spaces may bring their own pop-up tent, no greater than 10′ x 10′, and additional table(s) or displays that will fit within the alotted space. All tents must be anchored securely with weights. Limited spaces are available. If the option you choose is sold out (e.g., indoor table), the organizer may offer you the chance to secure an alternate spot (e.g., outdoor booth). Note that returning vendors may note a price increase compared to previous years, which is due to increases in other prices associated with hosting this event. 
FOOD VENDORS: Food vendors with trucks, trailers, or tents may also apply under the outdoor 10′ x 10′ booth space ($150) category. Smaller scale cottage food vendors may apply for an indoor 8′ table space ($100).
SHARING SPACE: We recognize that for various reasons, vendors sometimes prefer to share spaces. If you wish to share a space with another potential vendor, please email Kim first at glamcraftshow(at)gmail.com.
PHOTOS: All applicants must submit photos of their work that are representative of what they would offer for sale at GLAM, either via a web link in their application or by emailing photos to glamcraftshow(at)gmail.com. Applications that do not include photos may be automatically declined.
SELECTION CRITERIA: We favor vendors who make unique, handmade, giftable items that are fresh and unexpected, or even edgy and quirky. Please know that we work hard to strike the right balance of vendors for our shoppers, who come back year after year — both to revisit repeat vendors they love and to be wowed by new vendors. A few things to keep in mind:
We reserve roughly 10%-15% of available spaces for makers who have never participated in GLAM before.
We limit the number of vendors who sell within a single category (e.g., jewelry, ceramics, soaps/bath/beauty).
We do accept vendors who sell a limited number of vintage items, however our primary focus is on maker-generated items.
We do not accept vendors whose primary business is to resell items made entirely by someone else (e.g., imported or wholesale items). To be clear, it's okay to buy mass-produced T-shirts and screenprint them with your own designs. It's not okay to buy jewelry or clothing that's handmade in another country and sell it as your own work. If you think there is any grey area with what you make/sell, be sure to address this on your application and/or send us an email.
Please note that for each show, we receive more applications than we can accept. In part this is because we've been hosting this event for 15 years and have a plethora of past vendors who often reapply. So if you are declined, it may be that we simply do not have space, even if we feel like your work is a good fit for the show.
NOTIFICATION: All applicants will be notified of their status by Wednesday, Oct. 25 at 11:59 p.m., if not before.
VENDOR FEE: If you are accepted, the producer will retain the vendor fee that you paid. If you are not accepted, the producer will initiate a refund to your original payment by Wednesday, Oct. 25 at 11:59 p.m. It can take 5-7 business days for the banks to fully process the refunds. Please save your email receipt if you need it for tax purposes — the payee will appear as Sew Make Do, LLC, which is the parent company for GLAM.
SET UP AND BREAKDOWN: Vendor set-up will start at 8:00 a.m. on Dec. 3, and all vendors must have their display set up and ready for customers by 10:00 a.m. Vendors may not begin breaking down their display until the event has ended at 5 p.m. If you break down early, you may not be accepted for future shows.
QUESTIONS: Have questions before you apply? Email Kim Kruse at [email protected]. Thanks so much for your interest in making GLAM a diverse and dynamic event!
GLAM Craft Show is a production of Sew Make Do LLC, a Gainesville-based small business that strives to bring creative opportunities to our local community.