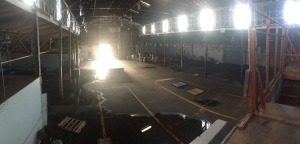 We're beyond excited to announce that GLAM Craft Show will be returning to downtown Gainesville in 2015! Save the date for Sunday, Dec. 6 from 10 a.m. to 4 p.m.
We are working with the Gainesville Community Redevelopment Agency to bring GLAM to a warehouse in the Power District (see it on a map here). The space has the same cool industrial vibe as the airport hangar and just as much indoor space, plus tons of onsite and nearby parking. It will also be within walking and biking distance for many of you, just like the old days.
There are a few other exciting development we're working on, but we can't share the details just yet. In the meantime, we'll be working with the CRA to get the space cleaned up and ready for the public. It's going to be great!
The call for vendors will go out this week, so please stay tuned.