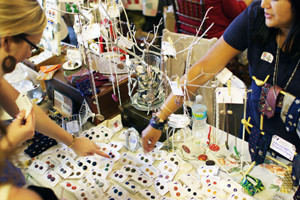 There's a hint of fall in the air and that means it's time to start accepting applications for this year's GLAM Craft Show. The show will take place on Sunday, Dec. 6 from 10 a.m. to 4 p.m. at the Historic GRU Operations Warehouse in downtown Gainesville.
We've made a few changes in how we're setting things up this year, so if you're a repeat applicant, be sure to look over the application form carefully. The biggest change is that all booth spaces will now be outdoors. Booth vendors will have the option to bring their own pop-up tents, if they choose.
The good news for shoppers is that the new venue allows us more room, so we expect to have even more amazing vendors for you to choose from. And that's a happy thing.
Potential vendors can apply here. Questions? Email Kim at [email protected].