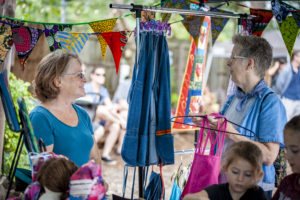 Interested in applying to be a vendor at Gainesville's original alternative craft show? That's awesome! We would love to have you apply. We're always on the hunt for local artists and crafters who make unique handmade items that are edgy enough to stand out from the crowd.
For our brand-new spring show on April 28, we are moving to Cypress & Grove Brewery, 1001 NE 4th Street, Gainesville, FL 32601. If you haven't been here, you're in for a fun link to Gainesville's past, since the brewery building was Gainesville's original ice house.
This new venue will offer both indoor and outdoor options for vendors. Table spaces will be indoors, where it will be air conditioned. The outdoor booths will be in the sunny beer garden, so please plan accordingly and bring a pop-up tent and anchors.
For the spring show, we are again using the Eventbrite system to process vendor applications. You can apply using this link. Look for the green "tickets" button in the upper right of the screen.
https://www.eventbrite.com/e/glam-craft-show-spring-2019-show-vendor-application-tickets-58464527977 
Questions? Contact Kim at glamcraftshow@gmail.com. Please note that all applications must be received by the application deadline of April 7, 2019.
GLAM is a production of Sew Make Do LLC, a Gainesville-based small business that strives to bring creative opportunities to our local community.