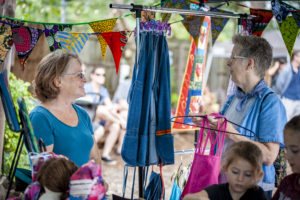 Interested in applying to be a vendor at Gainesville's original alternative craft show? That's awesome! We would love to have you apply. We're always on the hunt for local artists and crafters who make unique handmade items that are edgy enough to stand out from the crowd.
For the winter show on Dec. 8, 2019, we'll be back at First Magnitude Brewing Company, 1221 SE Veitch Street, Gainesville, FL 32601.
NEW THIS YEAR: Applications will be accepted and reviewed on a first-come, first-served basis until all maker spots have been filled. We are now offering two options for vendors — an indoor 8′ x 30″ table space or an outdoor 10′ x 10′ booth space. Earlybird pricing is available through Sept. 30.
To apply, you'll need an account on Events Local (formerly Sift Local). Cost to apply is $5. Vendor registration fees are due upon acceptance.  Indoor 8' tables are $85 for earlybirds and $100 after September 30, 2019. Outdoor 10′ x 10′ booths are $125 for earlybirds and $140 after September 30, 2019.
APPLY HERE — https://www.eventslocal.com/events/560/apply
Questions? Contact Kim at glamcraftshow@gmail.com.
GLAM is a production of Sew Make Do LLC, a Gainesville-based small business that strives to bring creative opportunities to our local community. Stay tuned for details about our spring show at Cypress & Grove Brewery, 1001 NE 4th Street, Gainesville, FL 32601.