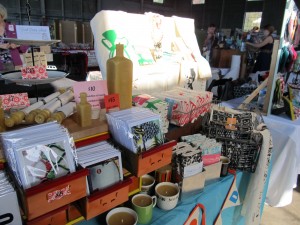 *** The official application deadline for the Dec. 6, 2015 show has passed, but feel free to add your name to our mailing list if you are interested in being a vendor at future shows. ***
Interested in applying to be a vendor at Gainesville's original alternative craft show? We're always on the hunt for local artists and crafters who make unique handmade items that are edgy enough to stand out from the crowd.
We use EventBrite to streamline the application process. The form below lists two different "ticket" options for potential vendors. Please read all of the information under the "Event Details" section. Then select either a table or a booth, and follow the EventBrite instructions to submit the required information and payment. Payment will be refunded promptly to anyone not selected as a vendor.
Once you submit your application, you'll receive an automated response from EventBrite letting you know that it was successfully received.
Questions? Contact Kim at glamcraftshow@gmail.com. Please note that all applications must be received by the published deadline.
GLAM is a production of Sew Make Do LLC, a Gainesville-based small business that strives to bring creative opportunities to our local community.